Welcome to Scripts By Warren. My name is Warren Sager and I have been writing Christian plays since I was in high school in the 70's.
ABOUT WARREN, THE PLAYWRIGHT:
I must begin by saying that I am a Christian first and foremost. I was raised in a Christian home and at the age of nine I became a born again believer in the Lord Jesus Christ.
I believe that Jesus is the Son of God and that He is God, and that there are three persons making up The One True God: The Father, Son & Holy Spirit. I believe in the virgin birth of Christ and that the Bible is the inspired Word of God and without error. I believe that Jesus died for my sins, was buried and rose again, and by receiving His free gift of salvation, I have an eternal home in heaven.
With my dad being a pastor, I have always been actively involved in the church. I also developed a love for the theater and drama from a very early age.
In high school, I wanted to put on a Christmas drama in our church, so I wrote the script, gave out the parts (including myself) and then directed it.
I was in every play my school put on during the four years of high school, and right after graduating, I moved to California to pursue a career as an actor. (Check 1985 photo below) I studied for over a year under actor/singer Wendell Burton in Hollywood.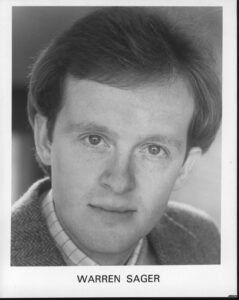 My desire has always been to honor the Lord, and I was not sure I could do that in Hollywood. I got a full time job in the postal service and continued to utilize my gifts in the church for His glory.
I married the church organist (Sharyn, my partner in life and my partner in the music ministry, and who is the real talent in the family – she makes me look good!), became the choir director and song leader, and I have had a puppet ministry as well as writing, directing and acting in plays for our church.
After years of being told that my scripts are good, I decided to make them available for others who would like to use them.
I retired from the postal service in 2004, moved from Southern California to Middle Tennessee, and I'm working as a playwright and doing custom script writing.
People contact me frequently and ask how I got started with the web site. After writing plays for years, we decided I should try the web site and see what happens. In 2001, I had a friend build my site for $50. I studied other web sites to figure out what I should charge and I got started, At the end of that first year, I had 8 scripts for sale and with the cost of the hosting, I didn't making anything.
During 2002, I added custom writing and people asked me to write scripts for them. The site has grown, always adding more scripts to the site.
Hear a podcast of an interview between Carol Montgomery and Warren about his writing.
Click here
http://www.instantteleseminar.com/?eventid=16931595
ABOUT MY SCRIPTS:
-When you read my scripts, you will find lots of dialogue and very little stage direction.
-I usually think in terms of what the characters are saying to each other, (in a realistic, conversational style) more than what they are doing on stage.
-As the director of the play, you will need to decide how to stage each production and work out the blocking (movement).
-I always pray and ask the Lord for inspiration, so that I might be guided by the Holy Spirit as I write.
-I always try to have a good message, something that honors the Lord, and something that folks can identify with.
-Many of the scripts here have a strong salvation message. Even most of my mystery plays have a message of redemption in them.
NEW SCRIPTS: These are the newest scripts that have been added in just the past several months. If you are a frequent visitor to the site, this page may be of interest to you.
HOLIDAY SCRIPTS: This category branches off into most of the holidays. This makes your search easier and faster if you are looking for something that goes with a particular holiday.
CHRISTMAS PLAYS: I have many Christian Christmas plays: biblical dramas, modern day stories that are centered around families, a children's play that can also work as a musical, a several modern day comedies, period pieces that involve fun costumes, scripts that utilize puppets and shorter plays and skits that have a Christmas theme.
EASTER SCRIPTS: Full length plays and short skits all on the subject of the resurrection of Christ. Either traditional biblical stories or modern day stories taking place at Easter. We even have a Christian look at the Easter Bunny called "Resurrection Rabbit".
OTHER HOLIDAYS: A Thanksgiving drama and short sketches, a collection of plays and short skits for Valentine's Day and Independence Day programs, plus something for Mother's Day, Father's Day and even Halloween.
GENERAL CHRISTIAN PLAYS: Here you will find mystery plays, fantasies, a medieval comedy, other comedies, an end times drama, other emotional dramas, a backwoods story that takes place in the 1920's; a take-off on reality TV with a show about the judgment day, youth dramas and a lot of other styles and types…all with a Christian theme or message.
SKITS : From very short to nearly 30 minutes… there a many skits to choose from covering a variety of subjects including: love, marriage, death, witnessing, finances, giving, hypocrisy, relationships, teen issues, forgiveness and other topics. Several skits are about a couple named Frank and Edith, who think they are the pillars of the church, but are actually just hypocrites.
TOPICAL SCRIPTS: This helps you narrow down your search faster as you see all the choices in various topics: HEROES OF THE FAITH, HISTORICAL, BIBLICAL, LOVE AND MARRIAGE, MISSIONS AND MISSIONARIES, MYSTERIES.
HEROES OF THE FAITH: In this series, I have tried to make them as accurate as possible by sticking close to the books I have read on the subjects. This is where you will find scripts based on biblical characters such as Esther, or famous Christians who lived lives of courage and example, like Corrie ten Boom, and Hudson Taylor, one of our greatest missionaries. Also plays about Gladys Aylward, George Muller and Fanny Crosby.
HISTORICAL PLAYS: Pocahontas, Abigail Adams, Lewis and Clark, the Wright Brothers and Francis Scott Key are some of the subjects among some plays and skits on American History.
BIBLICAL PLAYS: Besides Christmas and Easter, we also have scripts about Esther, Jochebed, Daniel's friends in the furnace, many scenes from the life of Jesus and some monologues.
LOVE AND MARRIAGE SCRIPTS: Mostly short plays and skits about love and marriage. There are couples dealing with having a baby, with children getting married, money issues, vacations, moving, old age, and even some real couples from the past. There is a love story that is an allegory of Christ and the church and a comedy involving two couples living next door to each other.
MISSIONS AND MISSIONARIES: A humorous skit about missions giving, children's skits about helping the homeless and needy and full length plays about some famous missionaries from the past.
MYSTERIES: A who-done-it based on the Good Samaritan, a 40's style film noir type, a Christmas play involving a mystery and a magical toy store and other shorter mysteries.
PLAYS FOR CHILDREN: These are scripts that were written with child actors in mind. Some of them may have older youth or adults in the cast.
PUPPET PLAYS: These scripts were written for puppet characters mixed with live actors. The number of puppets used can be adjusted to fit your situation.
ALL MALE CAST: These plays and skits are only for male actors, or nearly all male actors.
ALL FEMALE CAST: These plays and skits are only for female actors or nearly all female actors.
MONOLOGUES: Someone battling in prayer or learning how to forgive, are just some of the topics. Also a person at the end of his rope finds his way back to the Lord. Look for some free monologues here.
FREE SCRIPTS: These scripts (skits and monologues) are free and can be copied right from the website. The entire script is in the excerpt. Just cut and paste it to your own document.
CUSTOM SCRIPT WRITING: This will explain how the custom writing works and give you an idea about the possible costs involved and how I work as a writer in giving you the kind of script that you really want. Several pay options are available.